WESTAR-M5 Blaster Rifle
Production information
Model:

WESTAR-M5 Blaster Rifle

Type:

Blaster Rifle

Technical specifications
Capacity:

Unknown

Range:

Unknown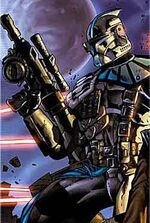 The WESTAR-M5 Blaster Rifle was the blaster rifle used by the Advanced Recon Commandos of the Galactic Republic during the Clone Wars. First seen utilized by the Alpha-Class Advanced Recon Commandos on the attack of Kamino. Soon it become a wide spread use among the later generations of ARC troopers.
Ad blocker interference detected!
Wikia is a free-to-use site that makes money from advertising. We have a modified experience for viewers using ad blockers

Wikia is not accessible if you've made further modifications. Remove the custom ad blocker rule(s) and the page will load as expected.